Wear A Mask - it's airborne!
There were lies about masks and respirators from the start of the pandemic. Ignore then, all masks work, but they vary from 10% protective up to 99.9%.
If you are in a country that has not yet eliminated COVID-19, wear a mask when mixing with others in enclosed spaces, whether vaccinated or not.
Thin masks like the stretchy spandex (lycra) one's offer (say) 10% protection to the wearer.
If you can afford N95, FFP2, KF94 respirators then consider having those instead of cloth masks as that is the best protection you can get.
If you're wearing a surgical-style mask that you bought from the supermarket or a corner store, mask brace that goes over that.
If you can't afford N95 grade respirators and want to stick with cloth, then use a three or more layer one, ensure the nose with is working well, and there are no edge leaks. Understand that you may well only have 40-60% protection from these.
If you cannot wear a mask or cloth face covering stay at home and get your food/groceries delivered.
N95, FFP2, KF94, KN95 and CN95
If you can afford it, get N95/KF94 grade masks (that are not cloth or washable) for use when mixing with other in public. Citizen Scientist, Aaron Collins, reviews masks for filtration effectiveness and talks about KF94 masks quite a bit, but there are many standards now.
Make your own high-spec mask
Can't afford N95 grade masks but want that protection? You're mostly out of luck. Regular fabrics:
Don't perform well at all for important particle sizes under 1 micron
In single layer construction don't provide enough filtration to be useful
In multi layer construction may provide sufficient filtration, but breathability will be greatly reduced causing the fabric to collapse in with each breath taken.
Spunbond polypropylene fabric
Your mask should be made from spunbond polypropylene (SBPP) and be a good fit with nose wire. The more of the spunbond polypropylene the better - four layers of 80 GSM SBPP can get you 87% on its own (no cotton). One six-layer design reached 98% protection. That was for 100nm particle size, 28.3 liters per minute flow rate, but can't be washed without lowering filtration, sadly.
Filtration results from a number of studies on SBPP: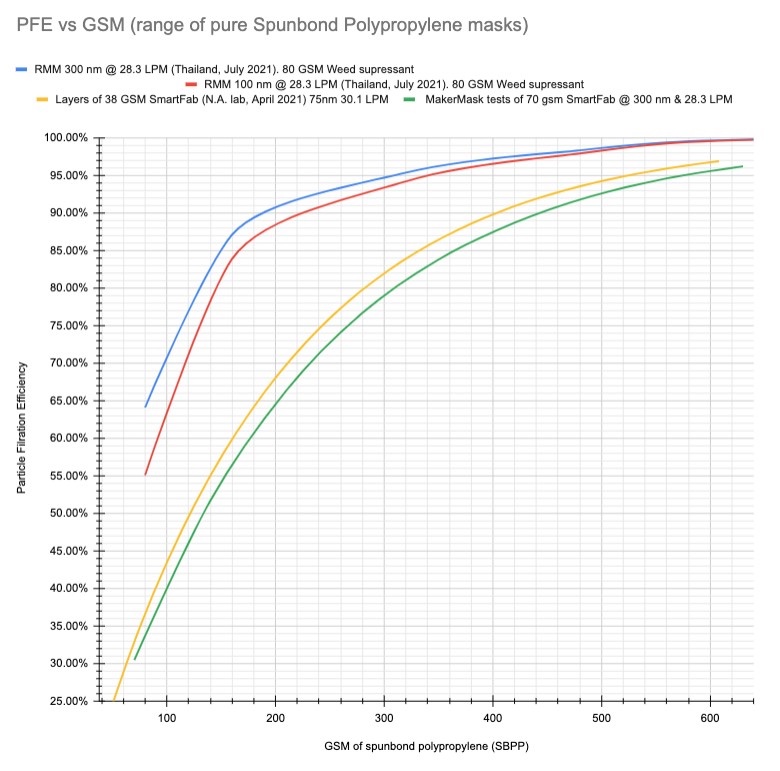 Here are quick to sew patterns specifically for high-filtration washable SBPP masks
High thread count cotton masks
Some studies in 2020 picked this as a material to use in mask making. Superficially, this material offers high protection, but it comes with a high price - the fabric pulls onto your nostrils and lips as you breathe in. That is because breathability is more of a problem for high TPI cotton than for other fabrics. High thread count cotton is a massive mistake for pandemic mask construction, in our opinion.
We have known since the start that masks would help slow or stop the pandemic:
From the fall of 2020 onwards, Aaron Collins with the equipment he had at his home tests high-filtration masks he's acquired for filtration and leakage. One of the stars of "masks for all" in the pandemic.
Articles in reverse chronological order:
Wikipedia Maintains a long page on mask use in the pandemic here
Goddard's Journal - listing the "masks work" studies
Goddard's Journal was among the very first to gather the studies that proved masks work. The author did work that many governments did not, disproving the lies told about masks.
Goddard's first video - March 2020
Timings from start of video:
Goddard's second video - October 2020
This was a follow up to the first, as noted at the start of the video. Timings from start of video:
Anti-Masker activities
Anti Masker groups are motivated by politics, hatred of your group/country, bad science, their own bad breath and more. They link to things they claim can prove their case. Their bogus talking points:
"just search for it, I don't have to give you links to studies"
"masks starve your oxygen" - they do not
"Country X or state Y doesn't have masks, and they're better than your country". Ask them what they think about Taiwan or South Korea who've performed among the best (with masks), and they get all racist or suggest it is faked.
Raina MacIntyre's work
Study 'MacIntyre et al, 2015', figures quite a lot as an anti-masker "truth". Goddard's Journal went into this study above. Meanwhile, Raina C MacIntyre is disgusted with mis-representation by anti-masker groups. She has published more in the last eighteen months to further indicate her science that masks actually work and that we should wear them: